Ace is the official mascot of the Toronto Blue Jays. He, along with his female counterpart, "Diamond", replaced former mascot BJ Birdy before the 2002 season as a mascot duo. Like his predecessor, Ace resembles a large blue jay. The mascot's name is baseball slang for a team's top starting pitcher (the "ace" of the staff, such as former Blue Jays pitcher Roy Halladay).
In 2004, Ace became the sole mascot of the team after Diamond was removed by the Blue Jays prior to the start of the season. In 2011, Blue Jays fans were introduced to his younger brother Junior.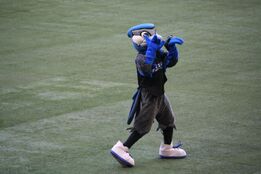 History
At the end of the 1999 MLB season, news broke that the Toronto Blue Jays would retire 20-year mascot BJ Birdy, replacing him with not one, but two younger, "fresher" blue jays.
Quickly, some in the sports media asked "Double the pleasure? Or, double the pain?" News of a naming contest led to suggestions like Swing and A Miss, More and Annoying, and Bird and Brain. For their part, the Globe issued an editorial calling the situation "a baseball civics lesson," suggesting that no one asked the public, "and when you don't ask citizens of a democracy if they want an icon to be changed you must expect them to rise up in revolution... or at least cry out: Give us back our bird."
As of early December 1999, four people expressed interest in applying, three of them from the United States. By the first round of auditions on January 10, 2000, the club had received about 70 applications.
The characters themselves were conceived and designed by Kelly Giannopoulos and Diane Semark. "We looked for the most interesting personality traits and then actually gave the mascots a past, a sort of legend that went with their story." The duo were designed with distinct plummage and faces, to reflect their gender. Sugar's Costume Studio built the outfits based on their designs. Their personality traits were modelled after Jim Carrey and Goldie Hawn, because "both of them have a wild and zany side." Their original names were Slider and Curveball. On March 4, 2000, two new names were unveiled through the Toronto Blue Jays "Name the Mascots Contest" ACE and DIAMON. Winner of contest: Toronto High School Student A. McConnell.

The costumes were built by Sugar's Mascot Costumes in Toronto. An early article suggested they would wear varied clothes; "tuxedos for formal events and surgical garb for hospital visits." The new costumes were lightweight and featured athletic pants to allow for stunts.
Brennan Anderson played Ace for five years, bringing his competitive gymnastics and media background. He later became a sales manager at Sugar's. Then-Ryerson University student Angelina Milanovic was a performer for Diamond.
Ace became the team's sole mascot in 2004, after Diamond was removed by the Blue Jays before the season opened. Ace wears the number zero. Ace's official website jokingly mentioned that his father invented bird stickers commonly found on windows and his mother was a goose feather supplier.
In 2012, Ace underwent some changes when the team changed their logo and uniforms. Ace was given more fur and his beak was changed from gray to blue and the bottom of his legs were switched from black to gray.