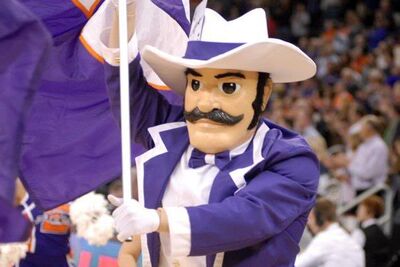 The credit for the University of Evansville mascot "Ace Purple" can be attributed to a basketball coach whose team was defeated by Evansville College in the mid 1920s.
After the game, the University of Louisville coach told Evansville coach John Harmon, "You didn't have four Aces up your sleeve, you had five!"
Harmon related the quote to Evansville Courier sports editor Dan Scism. Both Harmon and Scism decided they liked the sound of "Aces" better than "Pioneers," the Evansville College nickname at that time. In 1926, with popular support, the switch from "Pioneers" to "Aces" became official, but it wasn't until the late 1960s that Ace Purple, the riverboat gambler, was fashioned by local sports cartoonist, Larry Hill.
Ace was created in the image of a turn-of-the-century riverboat gambler to represent Evansville's location on the banks of the Ohio River. But Ace Purple also brandished a club with a spike through one end and carried a gun, and his sneer made him a less than likable character. The University was not pleased overall, so Ace Purple the mascot soon vanished, but the team remained the Purple Aces.
In 1977, when Evansville moved to Division I, first-year sports information director Greg Knipping saw the need to bring the character to life as a mascot. He contacted Keith Butz, who had recently revamped Purdue's Boilermaker Pete. Butz turned Ace Purple into a more likable character, and Knipping convinced the administration that despite the gambling image portrayed by Ace Purple, his qualities of cunning, daring, quick wit and shrewd judgment made him an outstanding representative of the Purple Aces. Knipping was among those killed along with the University of Evansville basketball team in the December 13, 1977 plane crash.
Today, Ace Purple remains unique among college mascots. Former UE basketball player Pieter van Tongeren (Class of 2011) modernized Ace's look as his senior art project. The transition began with informal discussions on campus about the need for an updated look.  That was followed by feedback from an electronic survey responded to by more than 2,000 UE alumni, students, faculty, staff, and friends.  His new look debuted during Homecoming 2011 Reunion Weekend.