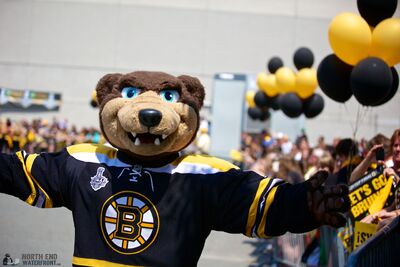 Blades the Bruin serves as the team mascot for the Boston Bruins. Blades the Bruin is notable because he is the only known bear who does not hibernate. Blades first took an interest in hockey when watching Johnny Bucyk play pond hockey with groups of neighborhood children. One day, he sneaked in the back of Bucyk's truck and was taken to the Boston Garden where Bucyk fed him pizza, hot dogs, popcorn, and pop from the concession stand. Blades was named by a young fan, Jillian Dempsey (now a standout for the women's team at Harvard), in attendance at that evening's game. Bucyk invited Blades to stay at the Garden and he agreed, assuming that the Bruins were bears like himself. Blades wears a XXXL jersey and size 13 skates.
In January and February, Blades travels around the greater Boston area giving bear hugs to raise money for the Bruins Foundation.
For a sizable amount of the team's more recent TV and online ads, a different anthropomorphic, and more "lifelike" ursine character simply known as "The Bear", but without a Bruins jersey/uniform, appears in official Bruins video advertising.
Community content is available under
CC-BY-SA
unless otherwise noted.