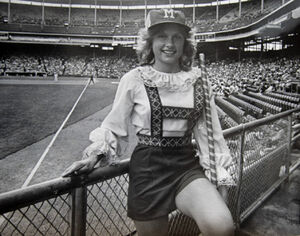 Bonnie Brewer is a former official mascot for the Milwaukee Brewers, appearing at Milwaukee County Stadium from 1973 to 1979. Bonnie was portrayed as a young blonde woman in a gold blouse and short blue lederhosen, wearing a baseball cap and frequently carrying a blue-and-gold broom which she would use to sweep the bases.
Bonnie was first introduced as the female companion to the Brewers' mascot Bernie Brewer. Bernie and Bonnie were created by then-team vice president Dick Hackett as part of an effort to create a lively atmosphere at County Stadium, which also included hiring organist Frank Charles to play a Wurlitzer during the games. As Hackett remembers it, Bernie and Bonnie were added over the objections of team owner Bud Selig.
Bonnie was noted mainly for her colorful antics during the seventh-inning stretch. As the grounds crew swept the infield, Bonnie wielded her signature broom, sweeping off each base in turn. After sweeping third base, she would playfully swat the opposing team's third-base coach on the backside with her broom, following it up with a kiss on his cheek.
Bonnie was discontinued after the 1979 season, although no clear reason has ever been given for her "firing". Bernie Brewer was discontinued as a mascot in 1984, although he was brought back as a costumed mascot in 1993, complete with full-body costume and large foam head. Bonnie Brewer returned as part of the nostalgia-heavy final home stand at County Stadium, September 18–28, 2000. As of 2008, Bonnie is part of the Brewers' "Retro Fridays" promotions at Miller Park, incorporating the traditional base sweeping as well as dancing with Bernie on Bernie's Dugout during the fans' singing of the "Beer Barrel Polka" in the seventh inning stretch.