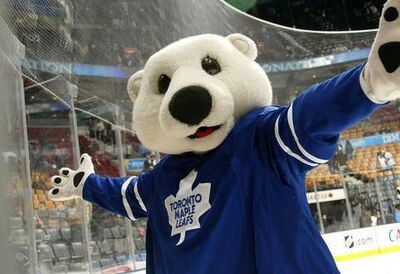 Carlton the Bear is a 6'4" anthropomorphic polar bear, and the official mascot of the Toronto Maple Leafs. His first public appearance was on October 10, 1995 at the Leafs' home-opener in Toronto against the New York Islanders.
Carlton's name and number (#60) comes from the location of Maple Leaf Gardens, 60 Carlton St. in Toronto, the Leafs home arena from 1931 to 1999. They have since moved to the Air Canada Centre on Bay Street. Since his debut, Carlton has gained fame through appearances at Leafs home games. He has also occasionally travelled with the team, having made appearances at 20 different arenas in 17 cities over his career. To date, Carlton has tossed more than 8,000 shirts into the audience, led various cheers, and spread Maple Leaf spirit to thousands of fans. Carlton is also credited with chairing the first annual Mascot Summit in 2000, which took place at the 50th National Hockey League All-Star Game in Toronto.
Reports of Carlton's retirement were circulated in November 2009, however the Maple Leafs, speaking through its mascot, stated that the report was false.