Jurassic World: Dominion Dominates Fandom Wikis - The Loop
Play Sound
Dinger is the official mascot of the Colorado Rockies. He is an anthropomorphic purple triceratops. The choice of a dinosaur, specifically this type, was inspired by the discovery of a number of dinosaur fossils—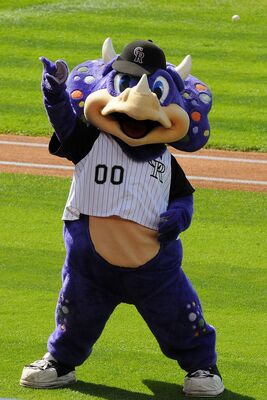 most notably a 7-foot-long (2.1 m), 1,000-pound (450 kg) triceratops skull—at Coors Field during its construction. His name "Dinger" is one of many slang terms for a home run.
Dinger is often seen on the field before and after the game and roaming around the stadium during the game. When Rockies hitters are at bat in the late innings of a game, he often dances in the seats immediately behind home plate in an effort to distract opposing pitchers, sitting down only immediately before the beginning motion of each pitch.
Dinger has been the Colorado Rockies biggest fan since he first hatched from his egg at Mile High Stadium on April 16, 1994. Dinger works year-round promoting physical fitness and literacy for thousands of elementary school students in the Rocky Mountain Region. He acts out his own Dinger Story for the kids. He also makes appearances at Children's Hospital Colorado and Denver Health. He makes appearances at Rockies events including the 5K Home Run, and the Rockies Rookies Kids Fan Club. He is a purple dinosaur with a Rockies jersey on with black sneakers.
On August 8, 2021, during a game between the Miami Marlins and Colorado Rockies, a fan was initially reported to screaming out the N-Word when a black player was batting for the Marlins. However, after further review, nearby spectators claimed that the fan was yelling out Dinger's name because he was nearby.