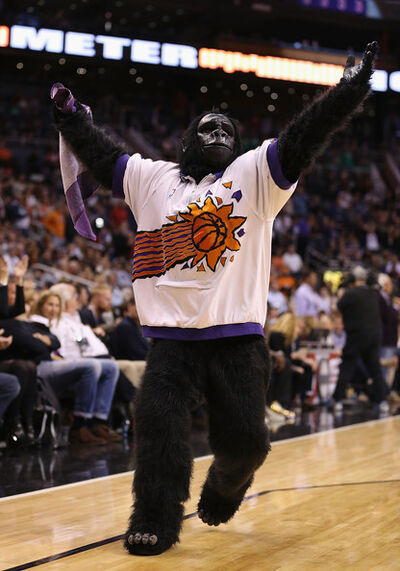 The Suns Gorilla is one of the more famous mascots in the NBA. For the first eleven seasons of their existence in the NBA, the Suns had no official mascot. An early attempt was made involving a sunflower costume, but it never caught on. In the winter of 1980, a singing telegram (sent by James Oberhaus, a loyal fan) named Henry Rojas from Eastern Onion Telegram service was sent to the arena in a gorilla costume. Security saw him and suggested to him to stay for a while to entertain the fans during the breaks. He kept coming to games until officially invited to be the Suns' mascot.
Since then, the gorilla, named Go, has been known for his slapstick humor during the games such as his stadium stairs all to the sound of the Rocky Theme, and the fantastic dunks that are performed before each 4th quarter. Also, one of his more beloved skits was at a Knicks home game where he came out to Frank Sinatra's "New York, New York", wearing a hat, with several pieces of garbage stuck to his leg. Halfway through the song, a group of "muggers" attacked him, and he staggered off the court afterwards. The gorilla was honored in 2005 when he was selected to be one of three inaugural members of the Mascots Hall of Fame. According to the Suns' website, the Gorilla graduated from "Hairy Truman" High School in "Mon-Key West, Florida", and "Fur-Man University" in 1980.
Go has been played by three different men since his inception as their mascot. Henry Rojas performed for the Suns from the Gorilla's inception in 1980 until the end of the 1987-88 NBA season. Bob Woolf took over the role afterwards, and he helped introduce some of the biggest staples Go holds. He performed as the Gorilla from the 1988-89 NBA season until the 2005-06 season. The next Suns' Gorilla was Devin Nelson, who performed from the 2006-07 NBA seaon until the end of the 2011-12 season. The newest Gorilla was revealed before the 2012-13 season. The new Gorilla is from Grand Rapids, Michigan and is hailed as one of the best professional mascots in the world.
As part of their "Origin of Species" series, ESPN aired a special feature on the Gorilla, where he was regarded as "the best there is, the best there was, and the best there ever will be" and "the Michael Jordan of mascots".