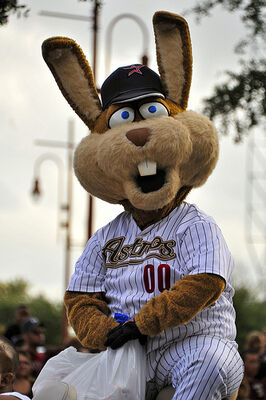 Junction Jack was the mascot character for the Houston Astros from 2000 until 2012. He was a 7-foot-tall (2.1 m) rabbit dressed as a railroad engineer. His "relatives" were Junction Julie and Junction Jesse, although they were not certified official mascots by the Astros.
Junction Jack replaced Orbit when the team moved from the Astrodome to Minute Maid Park. The new stadium was originally called "The Ballpark at Union Station" because it was built on the site of the historic railway station in downtown Houston. In keeping with this new theme for the Astros, Orbit was replaced by the engineer. The character was designed by Logan Goodson and named by Duone Byars, both former Astros employees.
After the 2012 season, Junction Jack, Julie, and Jesse were retired, with Orbit returning to his former place as the Astros mascot on November 2, 2012. Orbit's return coincided with the Astros' move to the American League West as well as their new uniforms, caps, and logo.