'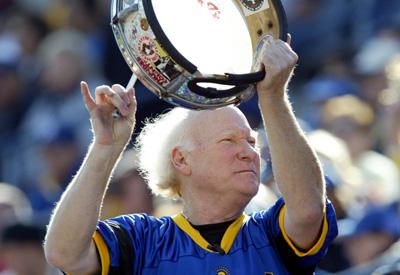 '
Krazy George Henderson
(born 1944) is a professional cheerleader and alleged inventor of the audience wave.
Henderson began cheerleading while a student at San Jose State in 1968, where he was also a member of the National Championship winning judo team. After graduating, he continued cheerleading for free at local sporting events, where he became known for leading sectional cheers, accompanied by his hand drum. In 1975, while working as a high school teacher at Buchser High School in Santa Clara, California, Henderson was hired by the San Jose Earthquakes and the California Golden Seals to be a cheerleader. Later that year he was hired to be a cheerleader for one game by the Kansas City Chiefs, team owner Lamar Hunt then extended his contract for the remainder of the season, and each year through 1979 (when the Chiefs lost a bidding war to the Houston Oilers); he has been a professional cheerleader ever since.
Henderson is characterized by his drum and gravelly voice.
George appeared in a tenth season episode of America's Got Talent, where is entire act consisted solely of leading the audience in "the wave". He was buzzed out by the judges in seconds.
The wave
Henderson claims to be the inventor of "the wave". He first used it as part of his cheerleading routine on October 15, 1981, while at a nationally televised Oakland Athletics American League Championship Series game against the New York Yankees. Henderson states that the wave was originally inspired by accident when he was leading cheers at a National Hockey League game at the Northlands Coliseum in Edmonoton, Alberta, Canada. His routine was to have one side of the arena jump and cheer, then have the opposite side respond. One night in late 1980, there was a delayed response from one section of fans, leading to them jumping to their feet a few seconds later than the section beside them. The next section of fans followed suit, and the first wave circled the Northlands Coliseum of its own accord. The A's/Yankees game combined a full stadium with an energetic crowd, the ideal situation for a wave. After a few false starts, the crowd understood what Henderson was trying to accomplish, and the wave circled the Oakland Coliseum, followed by several others during the game.
Employers
During his career, Henderson has worked for a number of teams in many different sports, including:
Ball State Cardinals (NCAA)
British Columbia Lions (CFL)
California Golden Seals (NHL)
Colorado Avalanche (NHL)
Colorado Rockies (MLB)
Colorado Rockies (NHL)
Dallas Tornady (NASL)
Edmonton Oilers (NHL)
Houston Hotshots (Indoor Soccer)
Houston Oilers (NFL)
Houston Stallions (Southern Indoor Football League)
Kansas City Chiefs (NFL)
Minnesota Vikings (NFL)
New Orleans Saints (NFL)
Oakland Athletics (MLB)
Oklahoma State Cowboys (NCAA)
San Jose Earthquakes (MLS and NASL)
San Jose Giants (California League)
San Jose State Spartans (NCAA)
Tampa Bay Rowdies (NASL)
Tennessee Titans (NFL)
Tulsa Roughnecks (NASL)
The United States men's and women's national soccer teams at the FIFA World Cup and the Olympics
Vancouver Giants (WHL)
Wheeling Nailers (ECHL)
Wichita Wings (MISL)
Winnipeg Jets (NHL)