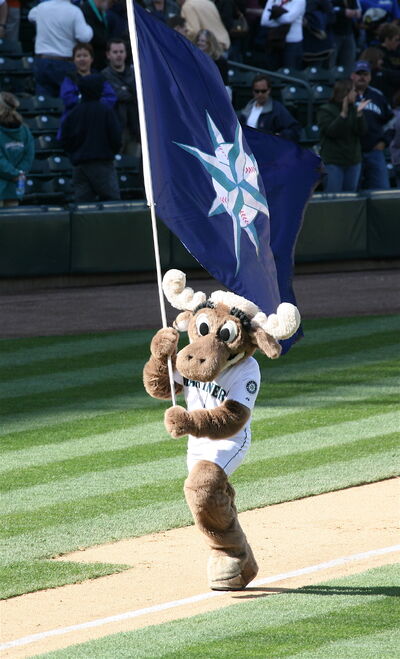 The Mariner Moose is the team mascot of the Seattle Mariners, a Major League Baseball team. In 1990, a contest for children 14 and under was held to select a mascot for the team under then-owner Jeff Smulyan. Out of 2500 entries received, the club chose the "Mariner Moose," originally submitted by Ammon Spiller of Ferndale, Washington. The Moose made his debut on April 13, 1990, dancing on the field at the Kingdome to "The Future's So Bright I Gotta Wear Shades" by Timbuk 3. Initially, he was not well recieved; fans of the Mariners started chanting "Kill The Moose" during Mariners games. Not even an attempt for the longest indoor flight on May 6 improved his reputation. It got so bad that the team reportedly sent him to Philadelphia to get lessons from the Phillie Phanatic.
During the 1995 American League Division Series between the M's and the New York Yankees, the Moose gained national attention when he broke his ankle crashing into the outfield wall at the Kingdome while being towed on inline skates behind an ATV in the outfield. Rollerblading behind an ATV would continue to be a fan favorite until 1999, when the team moved to Safeco Field and a natural grass playing surface. Since then, the Moose has become quite adept at driving his own ATV around Safeco Field's warning track while performing various tricks and having water coolers emptied on him by bullpen pitchers.
In 1996, Nike developed a television ad campaign entitled "Griffey in '96" wherein Mariners outfielder Ken Griffey, Jr. was running for President, with the Mariner Moose as his running mate.
The Moose makes several hundred appearances in the community each year in addition to Mariners home games, at everything from hospitals to wedding receptions. Since his debut in 1990, he has developed into one of the most popular mascots throughout all of Major League Baseball.
The Mariner Moose was featured on the ballot for the Mascot Hall of Fame in 2006 and 2007.
Mariners fans at Safeco Field have been known to express approval and or disapproval by engaging in the "moose call." The caller places hands on either side of their head in imitation of moose antlers, hands outspread, thumbs to temples, and yells "moooooo" while wiggling their fingers.