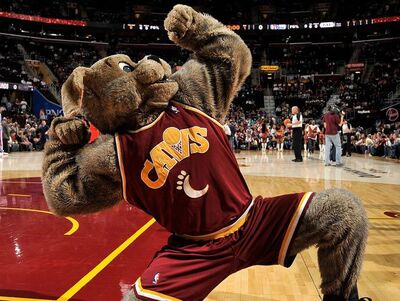 Moondog is the official mascot of the NBA's Cleveland Cavaliers. Like a growing number of NBA Mascots, the character has a unique connection not just to the team, but to the city and surrounding area. Cleveland is known worldwide as the rock and roll city, due to famed Cleveland radio disc jockey Alan Freed, who popularized the phrase "rock and roll", breaking new ground and sparking a music explosion.
Freed called himself the "Moondog", and his listeners were "Moondoggers". When the Cavaliers looked to create a new mascot which represents the city, Moondog was a natural selection. Like Alan Freed, the mascot aims to be innovative, fun-loving, passionate and controversial.
Moondog was an NBA All-Star selection in 2003 and 2004. He is best known for his behind the back half-court shot and fierce loyalty to his Cavaliers. His first appearance was on November 5, 2003.