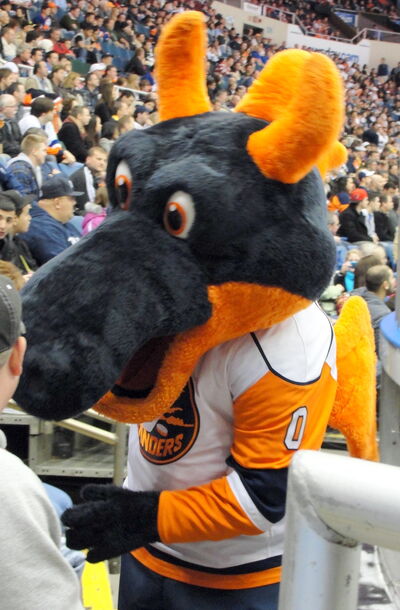 Sparky the Dragon is the mascot for the New York Islanders. He had served as the mascot for the New York Dragons Arena Football team until that league's 2009 demise. What made him unique was the fact that he wore two sets of colors, depending on the team he rooted for. He wore royal blue and orange. His original navy blue color was changed in summer 2010 to match the Islanders' return to their classic color scheme. His tail had the shape of a hockey stick. For Dragons contests, he had worn pink, red, and black. The fact that both teams were owned by computer magnate Charles Wang and both teams played at Nassau Veterans Memorial Coliseum factored into this. On September 22, 2015, it was announced that Sparky would not return as the Islanders mascot at Barclays Center. However, he will still make other appearances in Long Island and was shown in NHL '16. As the 2015-2016 season progressed, unsatisfactory ticket sales prompted Barclays Center CEO Brett Yormark to try and further appeal to the Long Island-centered fan base. On December 27, 2015, during the first intermission of an Islanders vs. Maple Leafs matchup, Sparky was officially reintroduced as the Islanders mascot. This mascot was fired after the 2020 season.
Community content is available under
CC-BY-SA
unless otherwise noted.