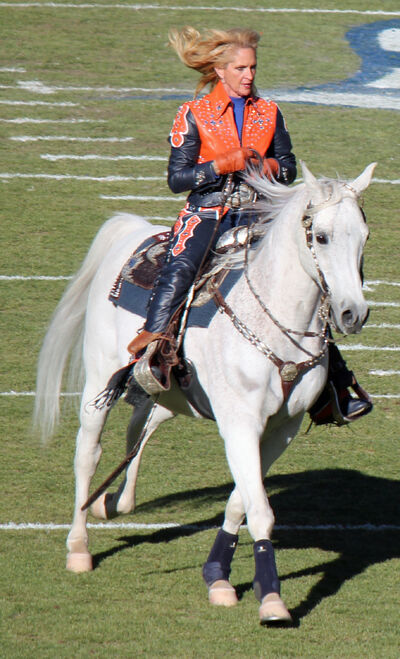 Thunder
is the stage name for the horse who is the official live animal mascot for the Denver Broncos football team. Three purebred Arabians have held this position, all gray horses whose coats lightened with age until they were completely white. Thunder has appeared in four Super Bowls with the Broncos, including an appearance by "Thunder III" at Super Bowl 50 in 2016. Thunder shares mascot duties with
Miles
, a human who wears a fake horse head and a Broncos uniform.
Thunder's job usually includes leading the team onto the field at the start of every home game and running from one end of the field to the other when the team scores a touchdown or a field goal. He and his rider also interact with fans prior to each game; the horse is particularly popular with children, who are allowed to pet him. The horses who have served as Thunder are trained to trust their handlers and to remain calm in situations that would normally frighten horses, including being inside loud football stadiums filled with thousands of fans and performing in the presence of exploding pyrotechnics, loud music, cheerleaders waving pom-poms, skydivers landing on the field, and other spectacles common to both American Football League (AFL) and National Football League (NFL) games. The first Thunder performed at two Super Bowl games during his career, and, as of 2016, Thunder III has appeared at Super Bowl XLVIII and Super Bowl 50. In 2014, Thunder III also made promotional appearances in Times Square and on television morning news shows in New York City. Thunder is routinely asked to appear in parades and at many other public functions. He has needed to travel in airplanes, ride on elevators, appear indoors for press conferences, visit hospitals and schools, and on at least one occasion, walked amongst banquet tables in a hotel ballroom.
The first Thunder, later named "Thunder, Sr.", was a stallion whose registered name was JB Kobask. Originally a show horse, he was the original mascot from 1993 until his retirement in 2004, and continued to make community appearances until his death in 2009. He was succeeded by the gelding Winter Solstyce, foaled in 1994, the personal pleasure riding horse for his owner, who took over as "Thunder II" in 2004. Thunder II retired from performing in games in early 2014 after the Broncos won the AFC Championship for the 2013-2014 season, but continued to make public appearances. "Thunder III", whose registered name is Me N Myshadow, was the understudy to Thunder II, specifically trained to become the next Thunder, beginning when he was started under saddle at age three, and began performing at preseason games in 2013. Although Thunder II was the mascot for the 2013-14 season, Thunder III went to Super Bowl XLVIII because he was younger and better able to handle being shipped by air to the east coast. Each mascot had a different personality: JB Kobask was very bold, while Winter Solstyce was more timid at first but grew into the role, being notable for his friendliness to people and for his tendency to pose for cameras. Me N Myshadow is laid-back and would prefer to doze off during games when he is not performing; he wears ear plugs to protect his hearing. Sharon Magness-Blake has owned all three horses. The trainer and rider of Thunder is Ann Judge-Wegener.