Line 1:
Line 1:
 

[[File:Viktor.jpg|thumb|400px]]'''Viktor the Viking''' is the official mascot of the National Football League's Minnesota Vikings. After several failed attempts at developing an official team-owned mascot, the Vikings finally introduced Viktor the Viking during the 2007 Vikings' season. Team officials had long indicated that they were after a mascot concept that would primarily appeal to the team's younger fan base. Viktor the Viking, a muscle-bound, blond-haired and mustachioed character, wears a Vikings' #1 jersey and an oversized Vikings helmet with protruding horns and a small yellow nose guard.

 

[[File:Viktor.jpg|thumb|400px]]'''Viktor the Viking''' is the official mascot of the National Football League's Minnesota Vikings. After several failed attempts at developing an official team-owned mascot, the Vikings finally introduced Viktor the Viking during the 2007 Vikings' season. Team officials had long indicated that they were after a mascot concept that would primarily appeal to the team's younger fan base. Viktor the Viking, a muscle-bound, blond-haired and mustachioed character, wears a Vikings' #1 jersey and an oversized Vikings helmet with protruding horns and a small yellow nose guard.

 
+

[[Category:Humans]]
---
Revision as of 15:06, 20 June 2019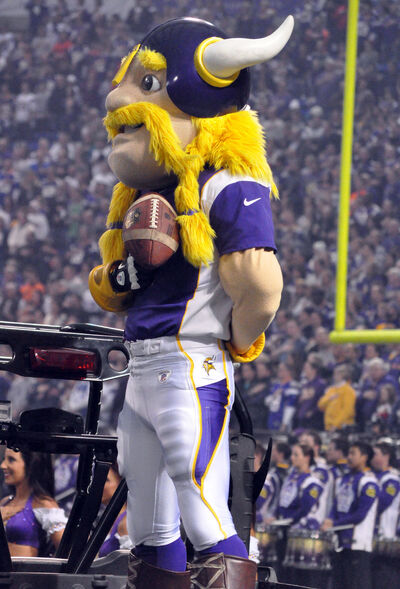 Viktor the Viking is the official mascot of the National Football League's Minnesota Vikings. After several failed attempts at developing an official team-owned mascot, the Vikings finally introduced Viktor the Viking during the 2007 Vikings' season. Team officials had long indicated that they were after a mascot concept that would primarily appeal to the team's younger fan base. Viktor the Viking, a muscle-bound, blond-haired and mustachioed character, wears a Vikings' #1 jersey and an oversized Vikings helmet with protruding horns and a small yellow nose guard.
Community content is available under
CC-BY-SA
unless otherwise noted.