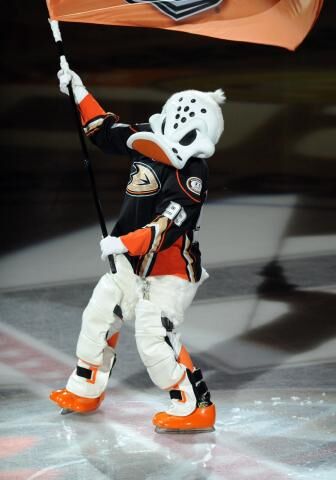 Wildwing is the mascot for the Anaheim Ducks. It was chosen following a fan "Name the Mascot" write-in contest, where a fan suggested the name. Wildwing is the first mascot in the history of National Hockey League to descend onto the ice from the rafters of the arena. It is an anthropomorphic duck. He was also featured in the animated series Mighty Ducks, wherein he received the last name of Flashblade, and a younger brother, Nosedive. Wildwing was the leader of the titular hockey team that also functioned as superheroes, after their previous leader, Canard, was lost in Dimensional Limbo on their way from their home planet of Puckworld chasing after the Saurians, a group of draconic beings who had devastated Puckworld; he inherited the legendary "Mask of DuCaine" from him. When the mascot debuted, it caught fire due to a stunt where it would drive an ATV through a ring of fire.
Community content is available under
CC-BY-SA
unless otherwise noted.